HVAC Service, Heating Installation & A/C Maintenance

Port Charlotte, FL, North Port, FL & Venice, FL

The Inflation Reduction Act or (IRA) was signed into law on August 16, 2022. This legislation is a historic initiative to fight inflation, invest in domestic energy production and manufacturing, and reduce carbon emissions by roughly 40 percent by 2030 among other tax benefits. This may affect you as a homeowner or builder by incentivizing greener investments.

Around $43 billion in IRA tax credits have been delegated to lower emissions by making electric vehicles (EVs), energy-efficient appliances, rooftop solar panels, geothermal heating, and home batteries more affordable. Starting in 2023, qualifying EVs will be eligible for a tax credit of up to $7,500 and $4,000 for new and used vehicles, respectively. Qualifying home improvements will be eligible for a tax credit of up to 30 percent of the total cost, capped at $1,200 per year. For heat pumps, the credit is capped at $2,000 per year.

Here are things you need to know related to the HVAC industry:
Starting in 2023 the Energy Efficient Home Improvement Credit will be equal to 30 percent of the costs of all eligible home improvements made during the year.
The annual limits for specific types of qualifying improvements will be:

$600 for other qualified energy property, including central air conditioners; electric panels and certain related equipment; natural gas, propane, or oil water heaters; oil furnaces; water boilers
$2,000 for heat pump and heat pump water heaters; biomass stoves and boilers. This category of improvement is not limited by the $1,200 annual limit on total credits or the $600 limit on qualified energy property

You can use this calculator to discover just how much you can earn in rebates by making these upgrades to your home.
There are a few caveats to the incentive, here they are:
Depending upon the state, rebate programs may take some time to get implemented.
Funding allocations will vary from state-to-state.
Rebates will be subject to availability – the funds are capped, so they may run out before the ten-year period is over.
The rebate program will not be available to all households. Households earning less than 80% of
The median income can qualify for the full benefit. Those earning between 80 – 150% of the average median may be eligible for a partial (50%) benefit.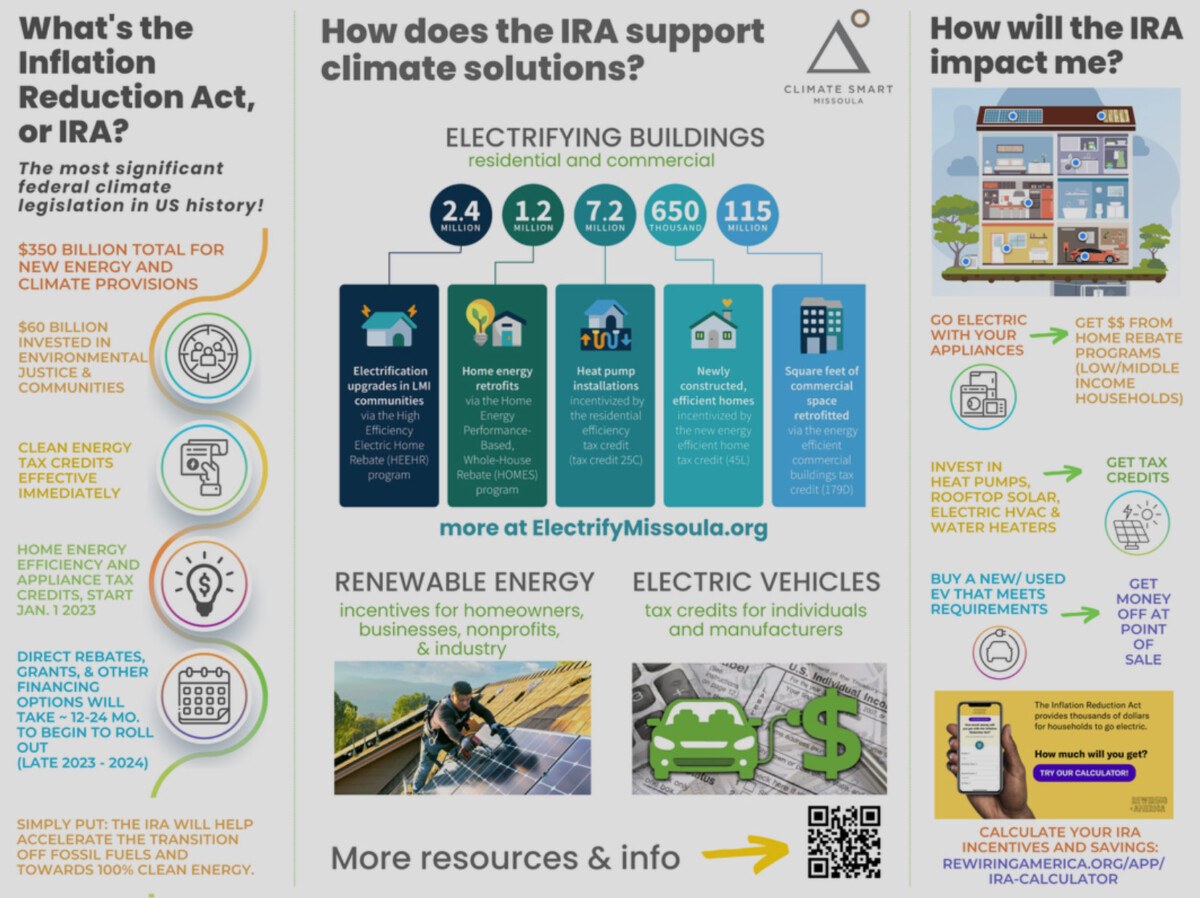 (Photo source: https://www.missoulaclimate.org/accelerate-clean-energy-with-the-ira.html)
If you want more information about the IRA or assistance in understanding if you qualify for these incentives, call our office at 941-426-1770.
Total Air Solutions, March 20, 2023
Author: Lauren Marshall, Marketing Manager
Air Conditioner Repair

∴

HVAC Installation

∴

Heating Installation

March 20, 2023

2023/10/03